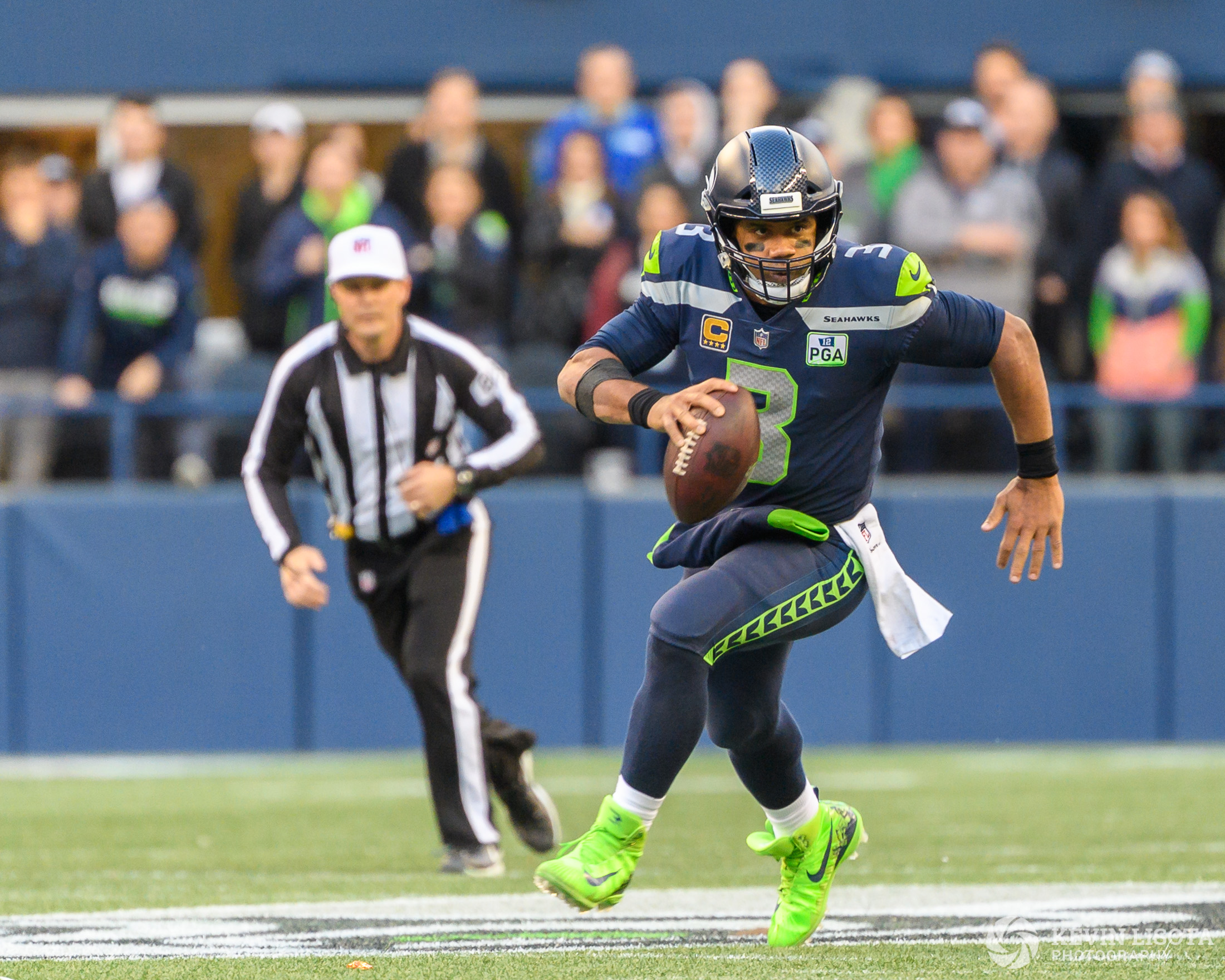 What is it like to photograph an NFL football game from the sidelines? It's fun, frenzied and can be a tricky sport to photograph.
The sideline of an NFL game is a busy place. Besides the players and coaches, there are cheerleaders, officials, medical staff, sideline reporters and loads of broadcast TV staff and equipment.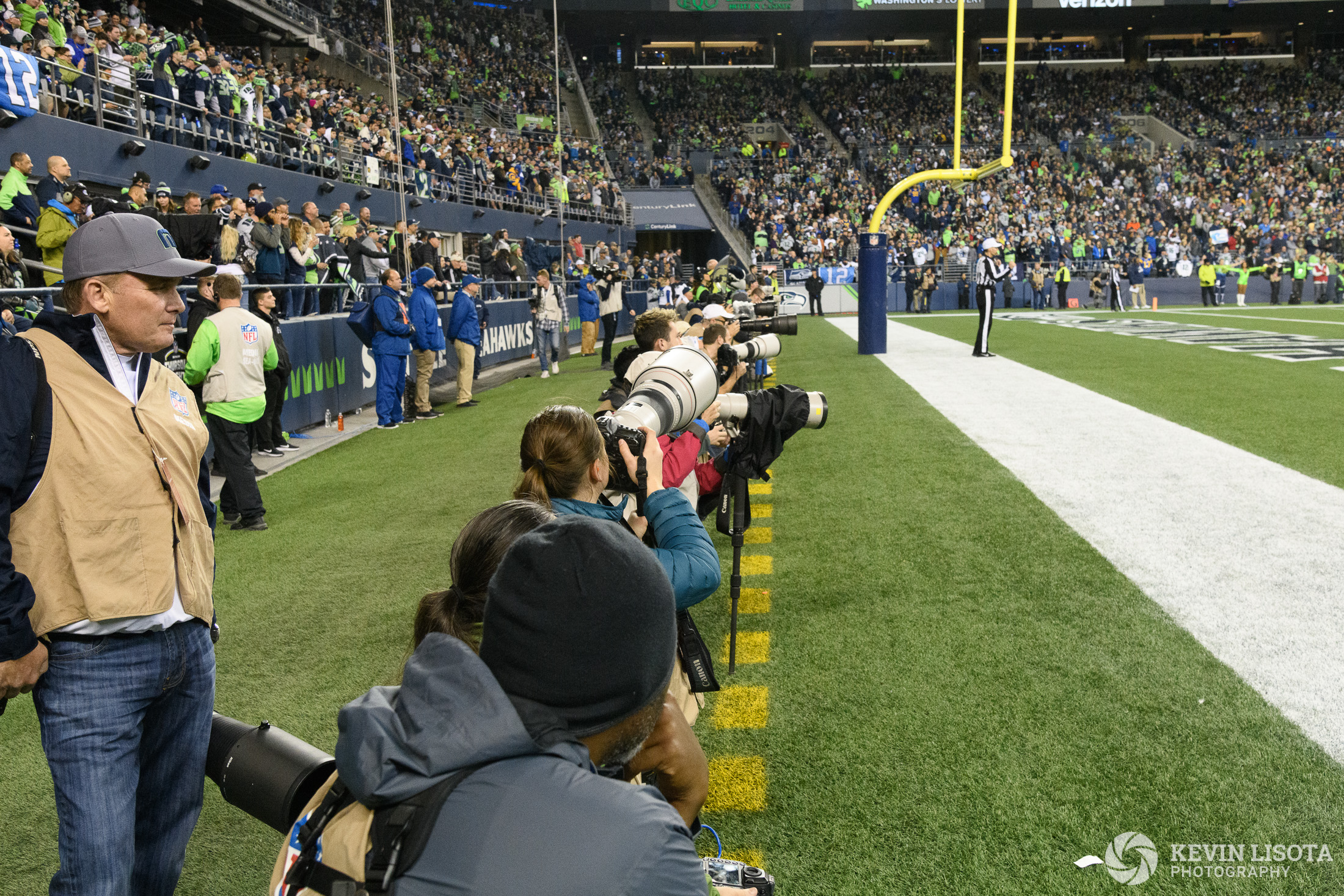 There are approximately 80-100 photographers at a typical Seattle Seahawks game. The team and prominent publications have several different photographers capturing every possible angle. To capture a game effectively and quickly, it helps to have one photographer on each sideline and runners who can shuttle memory cards back and forth to the photographers' workroom inside the stadium.
The photographers' workroom allows editors to cull and publish photos quickly while the game is in progress. It is packed with photographers until many hours after the game as they edit and publish their photos. Many stadiums even have a darkroom where they used to process film back in the day.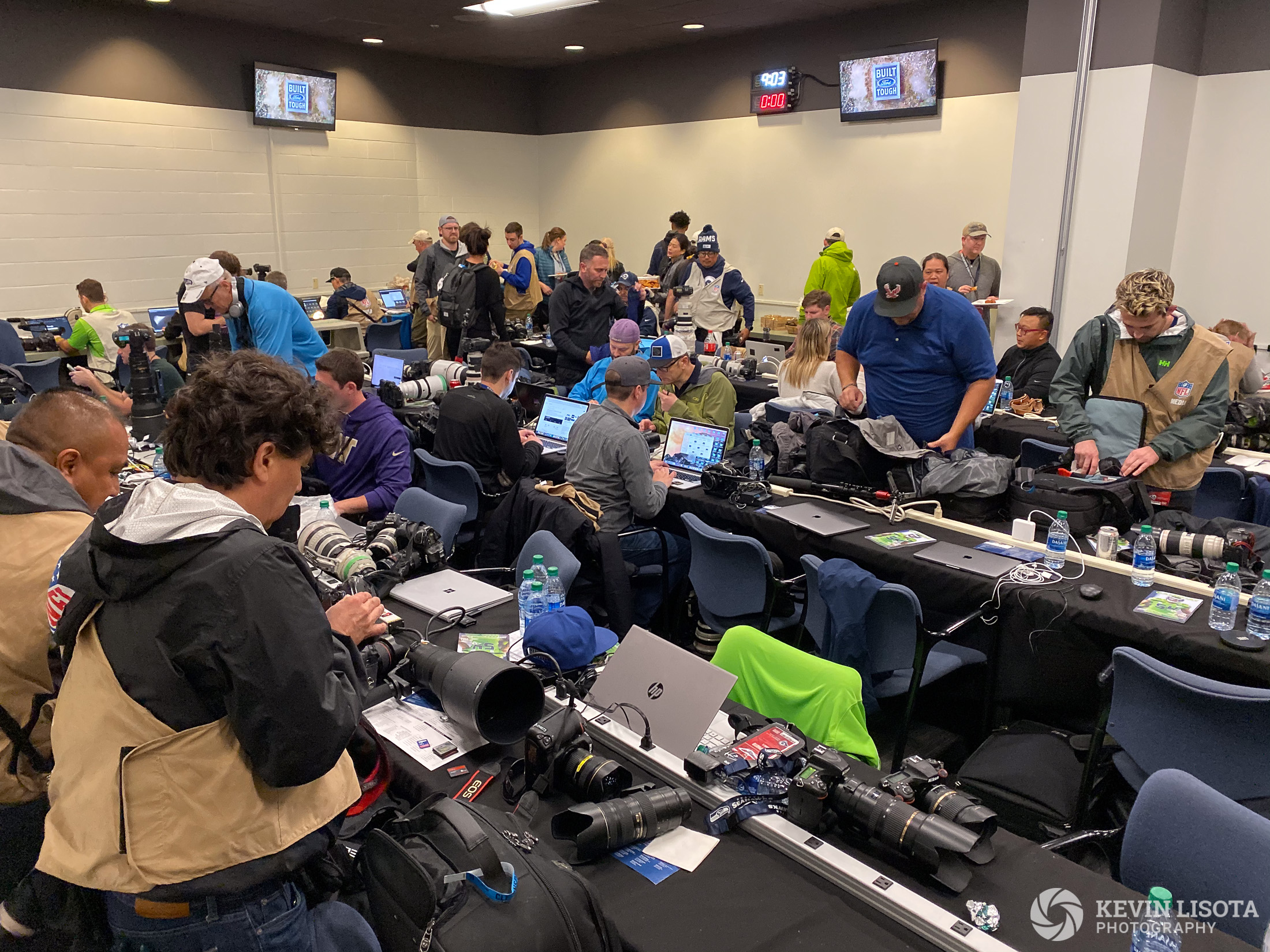 Professional football photography remains the domain of Canon and Nikon. At a recent game, I only saw a couple of photographers using Sony equipment. Sony's new a9 camera bodies and recent introductions of large 400 mm and 600 mm prime lenses may eventually change the equipment mix. Still, many publications and photographers have heavy investments in costly lenses and bodies from Canon and Nikon.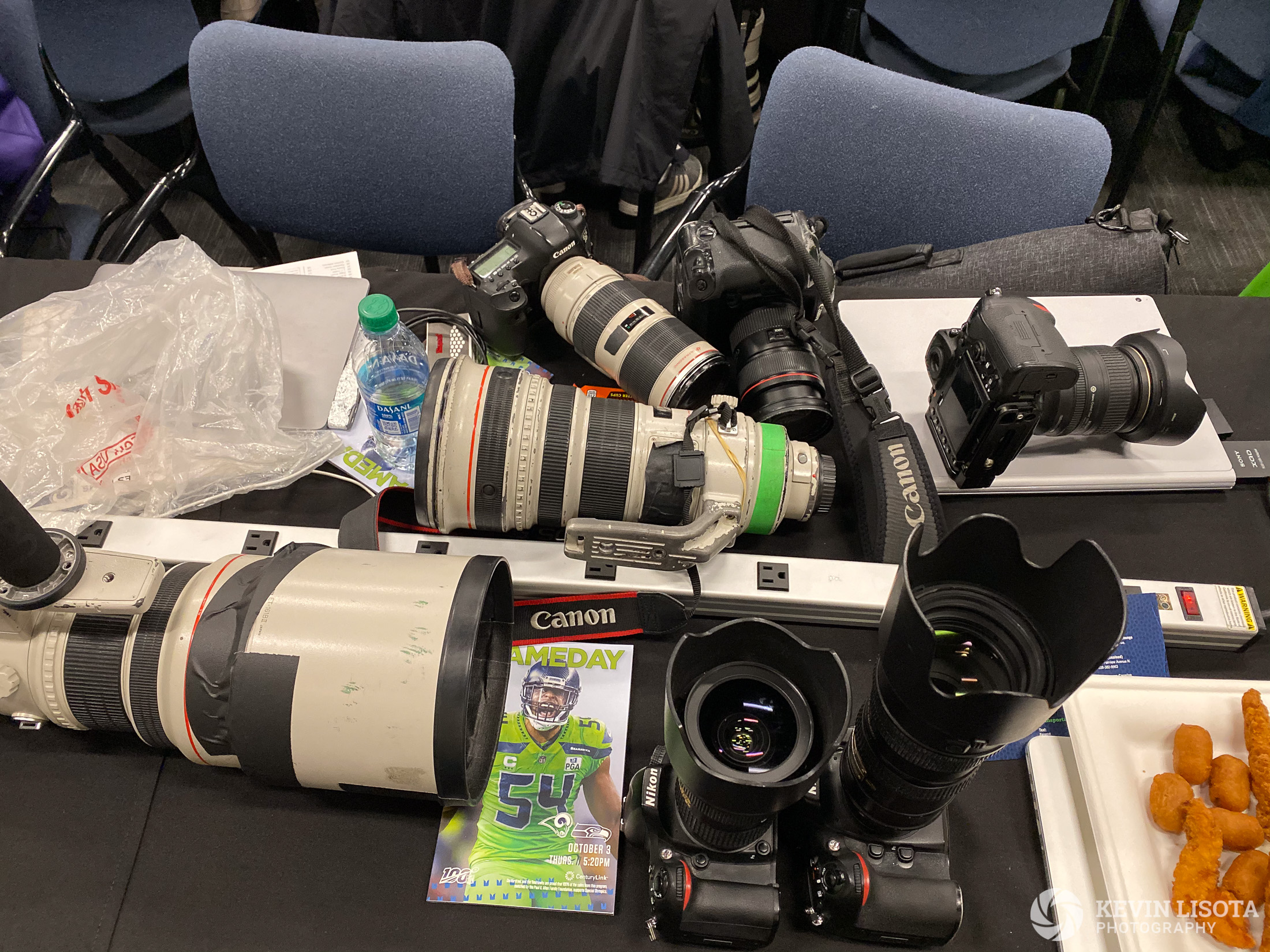 Anticipate and follow the action
Photographing a football game differs from other sports, where photographers are constrained to a specific area. Photographers can roam the sidelines and position themselves where plays are taking place. The team benches block the two areas at midfield, but photographers can position themselves anywhere else around the field behind a line that is 6 feet from the sideline.
Most photographers will continually reposition themselves in front of the line of scrimmage, anticipating that the offense will move the ball toward them. Sometimes this involves running down the sideline with your gear. Once a scoring play is imminent, photographers will line themselves around the end zone, hoping to capture the scoring play and scoring celebrations.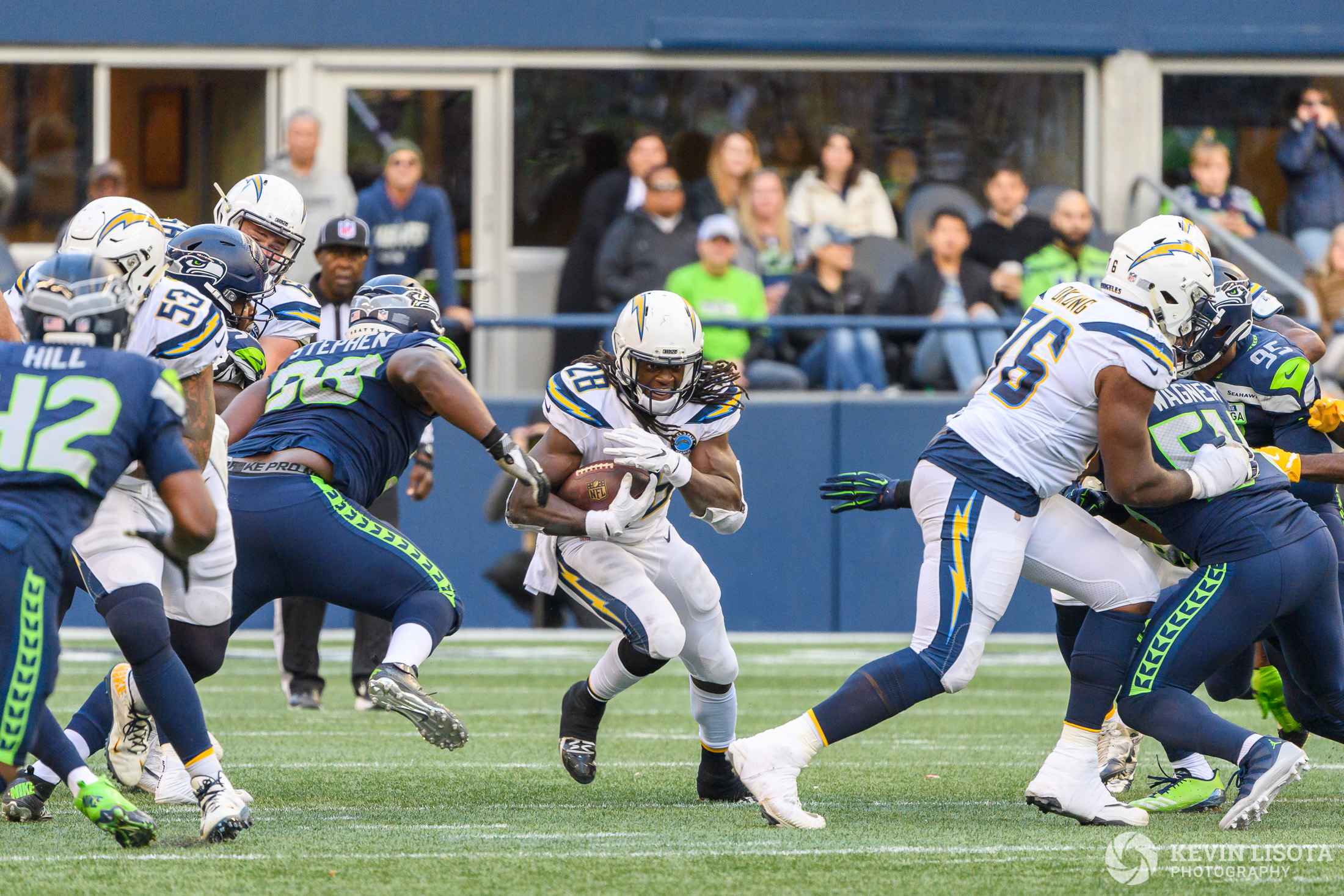 Photographing from behind the line of scrimmage offers a different perspective, highlighting the faces of defensive players, quarterback sacks, or hand-offs to running backs.
Like photographing wildlife, successful football photography relies on anticipating and following the action. Understanding the game and its rules certainly helps.
It is reasonably straightforward to follow running plays or short passes from scrimmage with your camera, but one of the challenges of football is long-passing plays. It is easy to see the quarterback eyeing a pass play, but he scans the field and often picks a receiver in an unanticipated direction. Locating the receiver on a long pass with a zoom lens takes practice.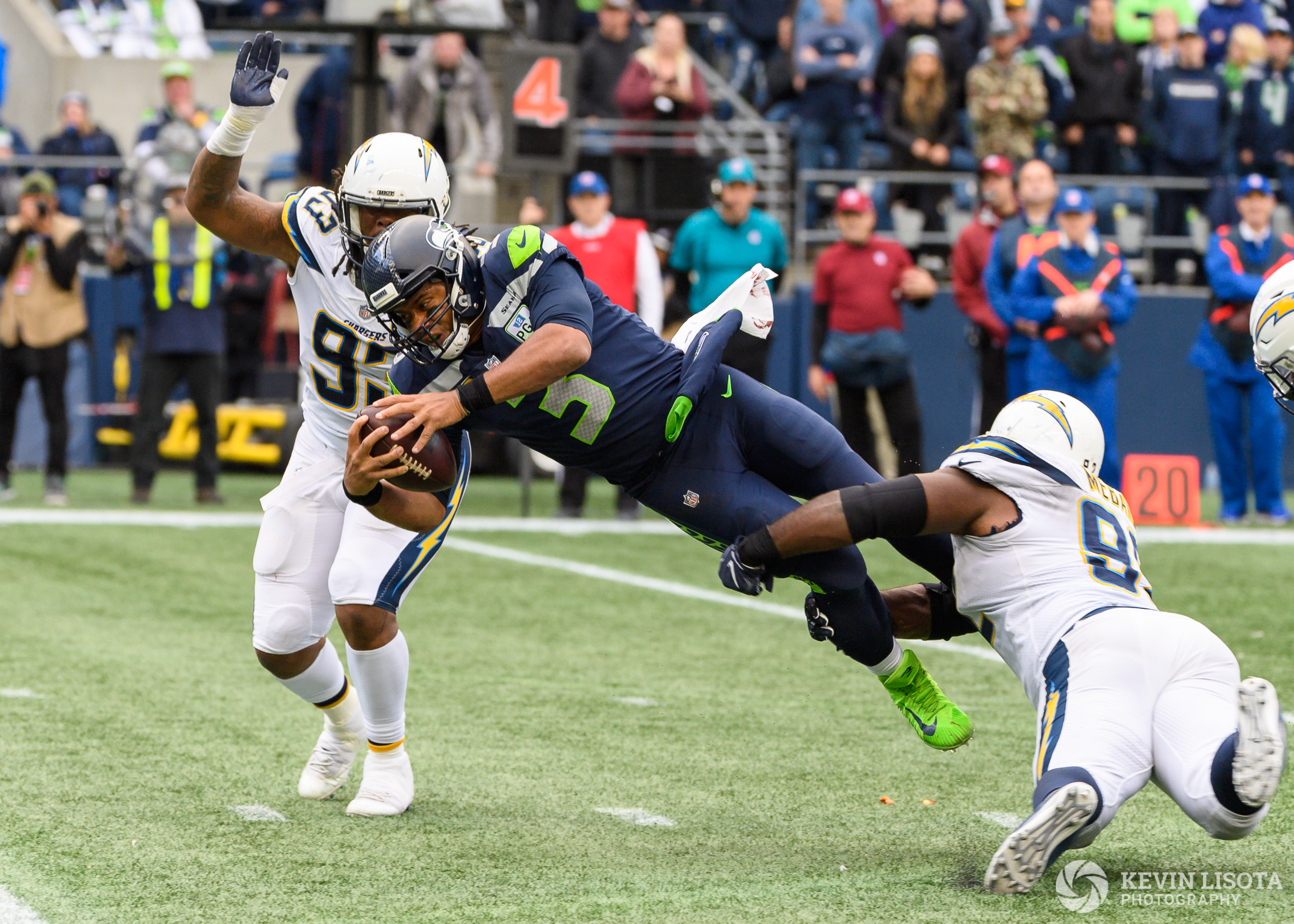 I like kneeling to capture a lower perspective. This makes the players look larger and more imposing, not that some aren't already freakishly imposing. It also helps to capture less grass and more fans in the shot. Knee pads can make this more comfortable, and always be on your toes when the action comes right at you so that you can get out of the way.
Capture the emotion
Compelling sports photography combines the best action shots and the emotional reactions and interactions between players and fans.
If you are a fan of the team or the sport, it can be easy to get distracted by exciting plays or want to review your shots to see if you got the big play. Stay focused, as the celebration or dejection following a great play can tell more of a story than the action.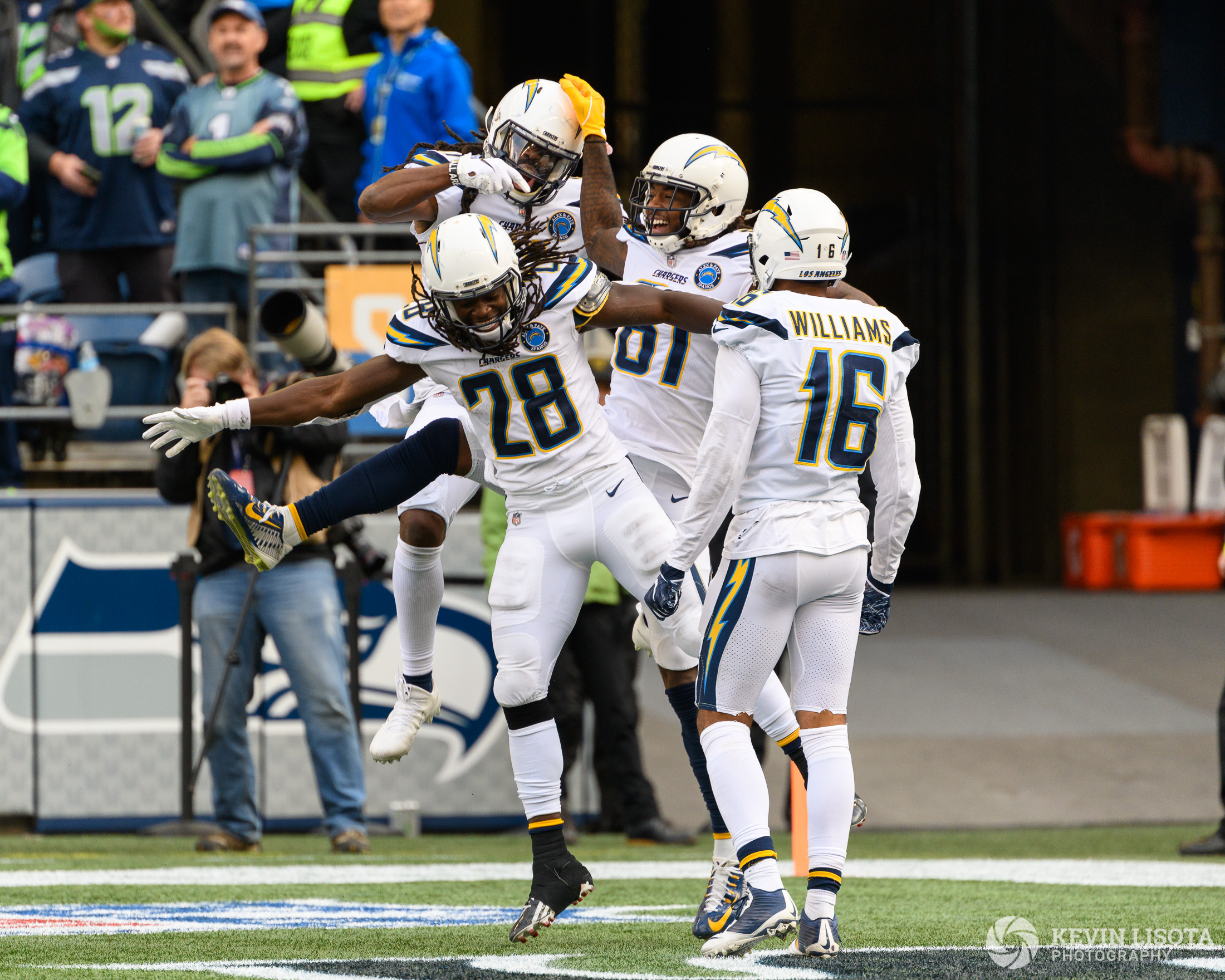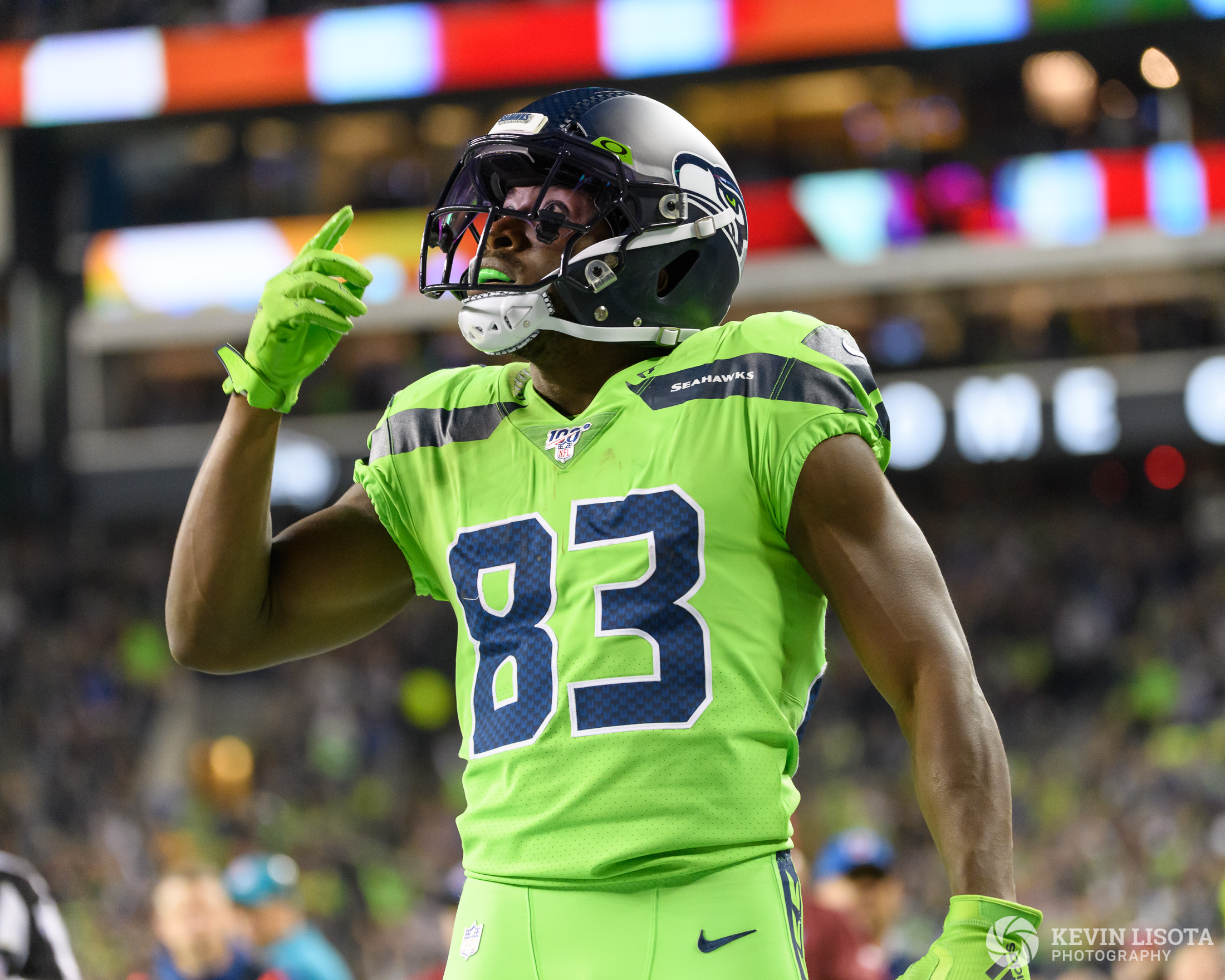 With 22 players on the field, a tight zoom can bring out fun details like players grimacing, grabbing, or struggling to bring down a player.
Don't forget the fans or teams on the sidelines, who might be even more emotional than the players.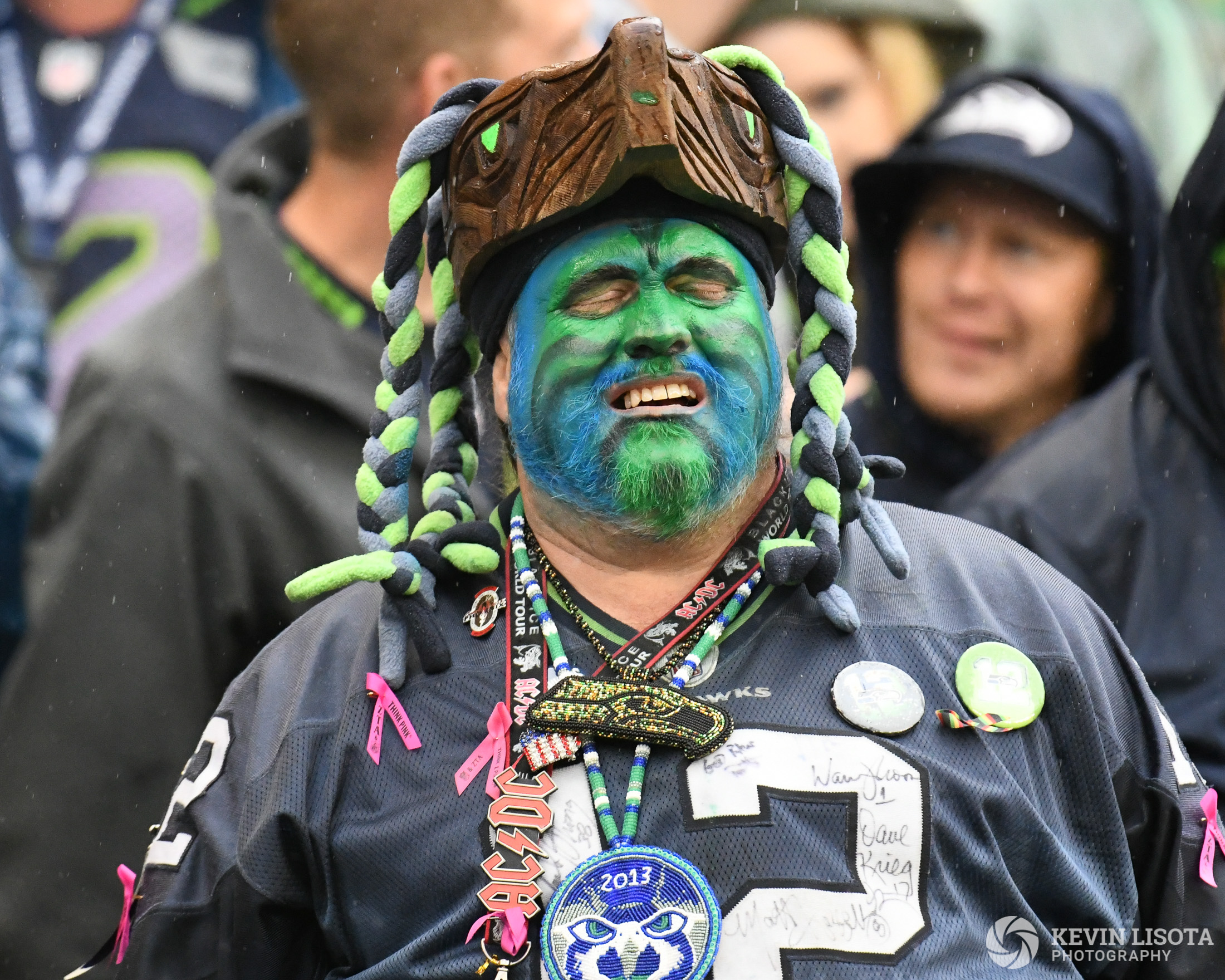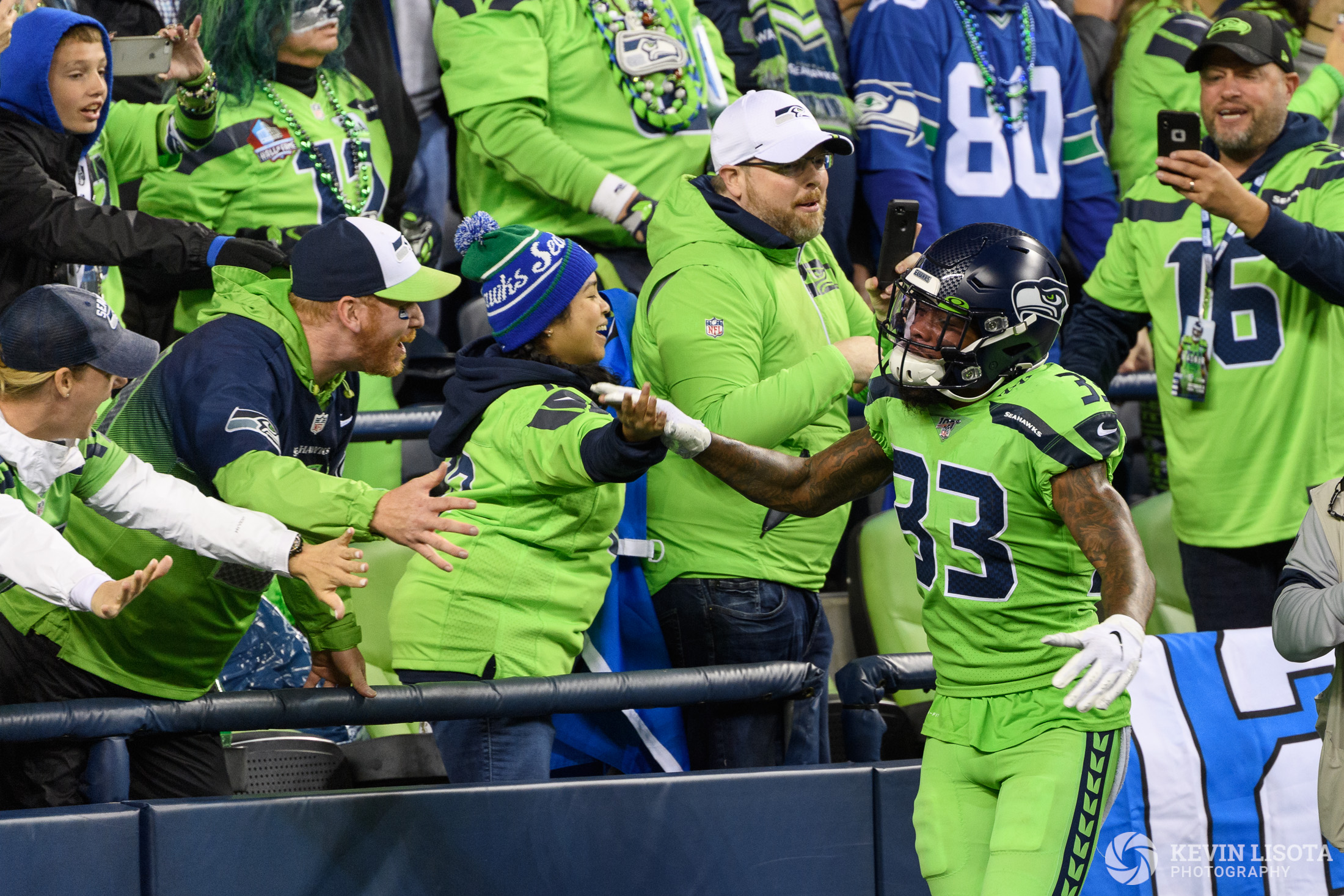 Camera settings for football
The most important camera setting for football is shutter speed to freeze the action. 1/1000 sec is fast enough for freezing most action, but freezing the ball on a kick or a quick pass can require faster shutter speeds like 1/1250-1/1600 sec.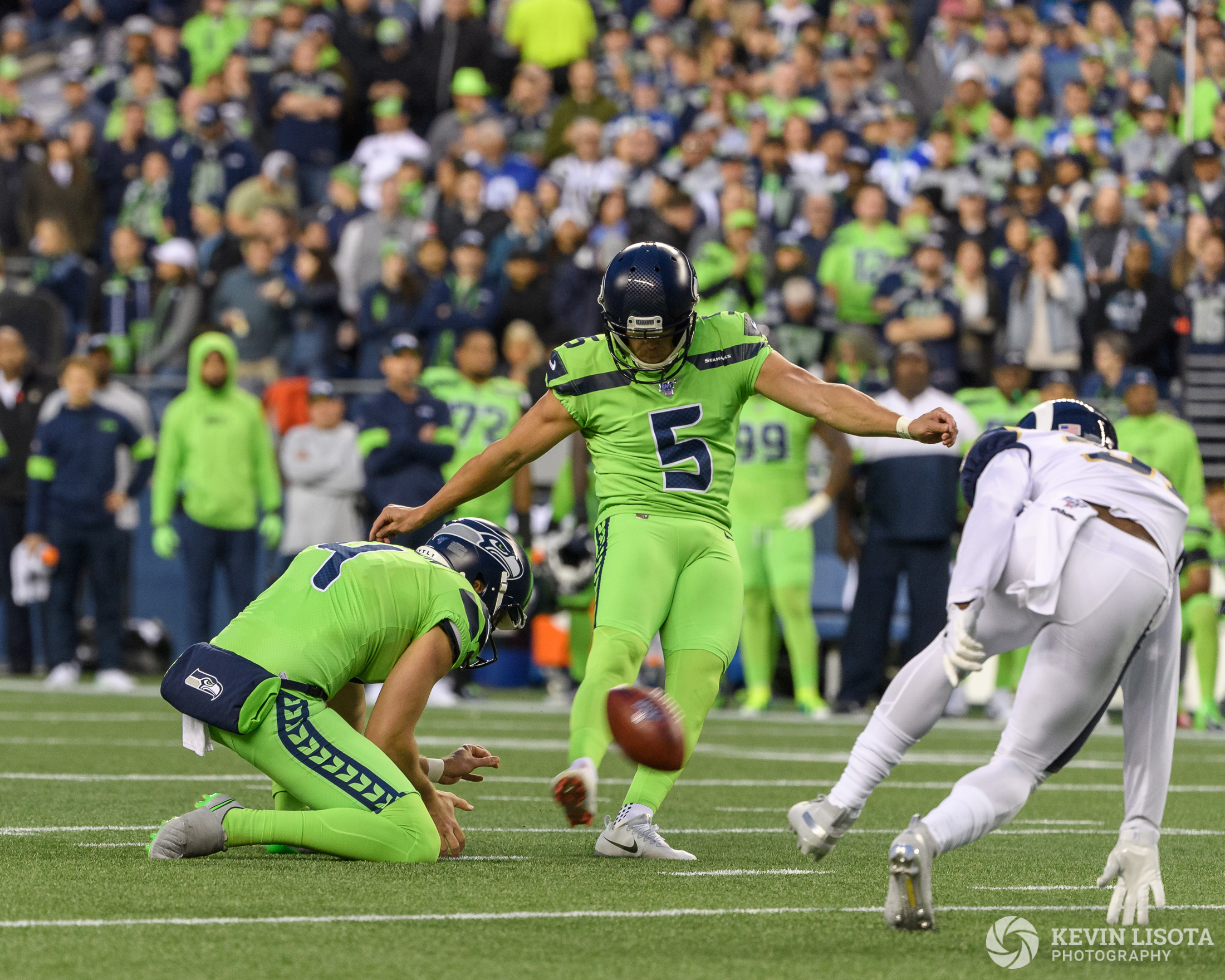 At an outdoor stadium, auto white balance works best as the color temperature can change from sunlight to shade to stadium lights as the game progresses. Sometimes the field can even have mixed color temperatures between areas in sunlight and shade. White balance could be fixed during a night game or inside a dome where the lighting conditions aren't changing.
In most cases, I shoot football at wide-open apertures, which is f/4 on my zoom lens. This helps to isolate subjects against very busy backgrounds and keeps ISO at reasonable levels at high shutter speeds. The only time I change the aperture is when I'm looking for additional depth of field when capturing all of the players on the line of scrimmage.
Fast frame rates are critical to capture fast-action sequences, so set the camera to continuous high-speed capture. Rapid frame rate is why many sports photographers spend thousands more on the fastest camera bodies to maximize the chance of getting the shot.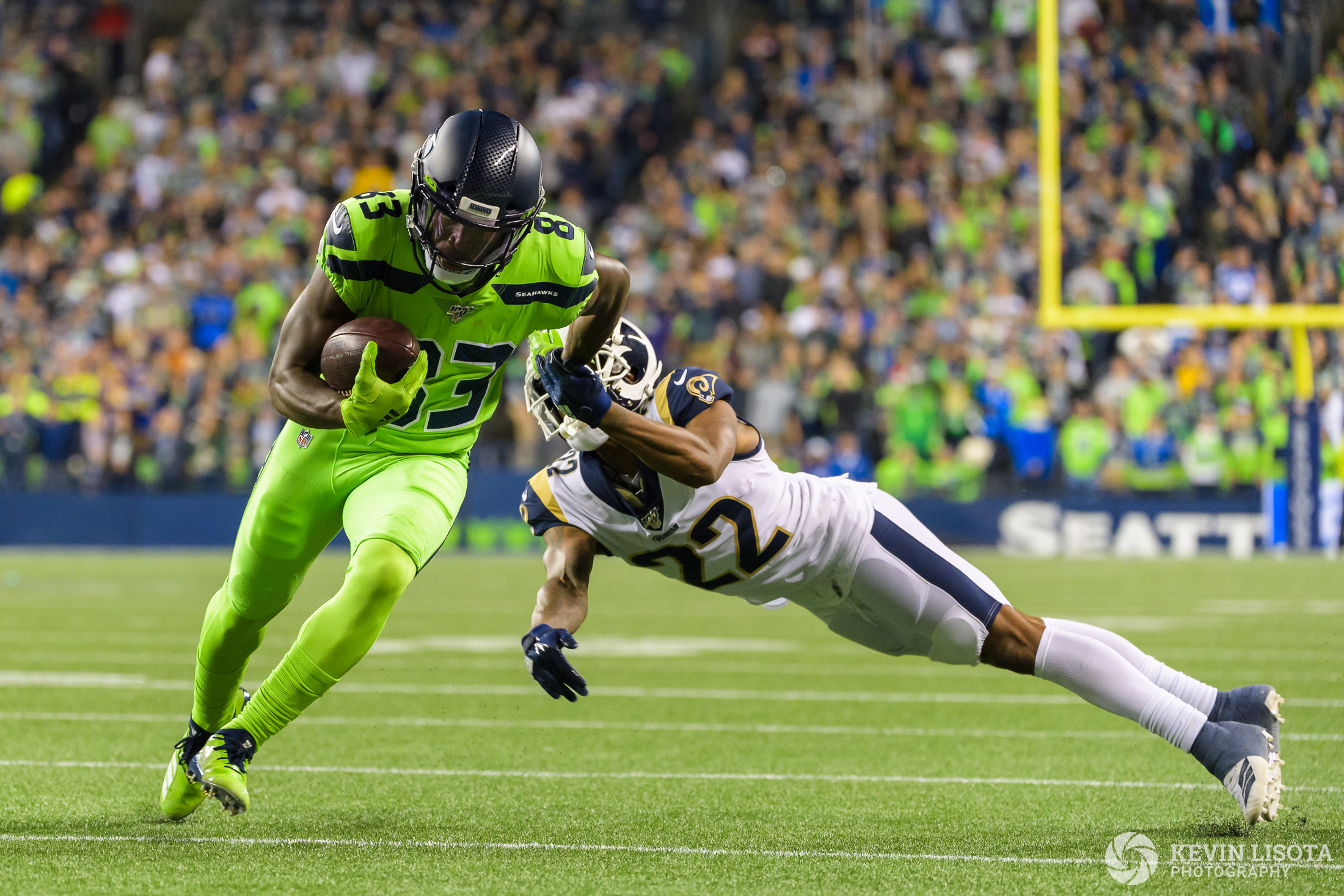 Continuous auto-focus is also critical with multi-point focus mode. I use 25-point continuous auto-focus on my Nikon D5, but other camera makers have similar multi-point focusing modes. You want the camera to track subjects as they move outside your focus point.
Sports photography is also where you can explore just how sophisticated autofocus systems have become. I can change the priority on my Nikon cameras when shooting high-speed continuous sequences. Should the camera prioritize ensuring focus or prioritize the maximum number of shots?
There is also the ability to change how the camera's focusing system deals with blocked shots from players or officials running in front of the shot, along with optimizations for how steady or erratic the motion is.
Lens selection
A football field is 120 yards long, and most action will be 20-50 yards from you. I use a Nikon 180-400 mm zoom lens with a built-in 1.4x teleconverter for an effective 180-560 mm range. Many football photographers will use large prime lenses between 400-600 mm.
With large zoom and prime lenses, having a monopod for support is essential. Be sure to turn on image stabilization, and you might even want to tape that switch so that you don't jostle the setting while moving around during the game.
A long telephoto lens is critical, but it is essential to be prepared when the action gets closer. A scoring play in the end zone can end up just a few yards away from you. A second camera body with a 70-200 mm lens can help with the closer action.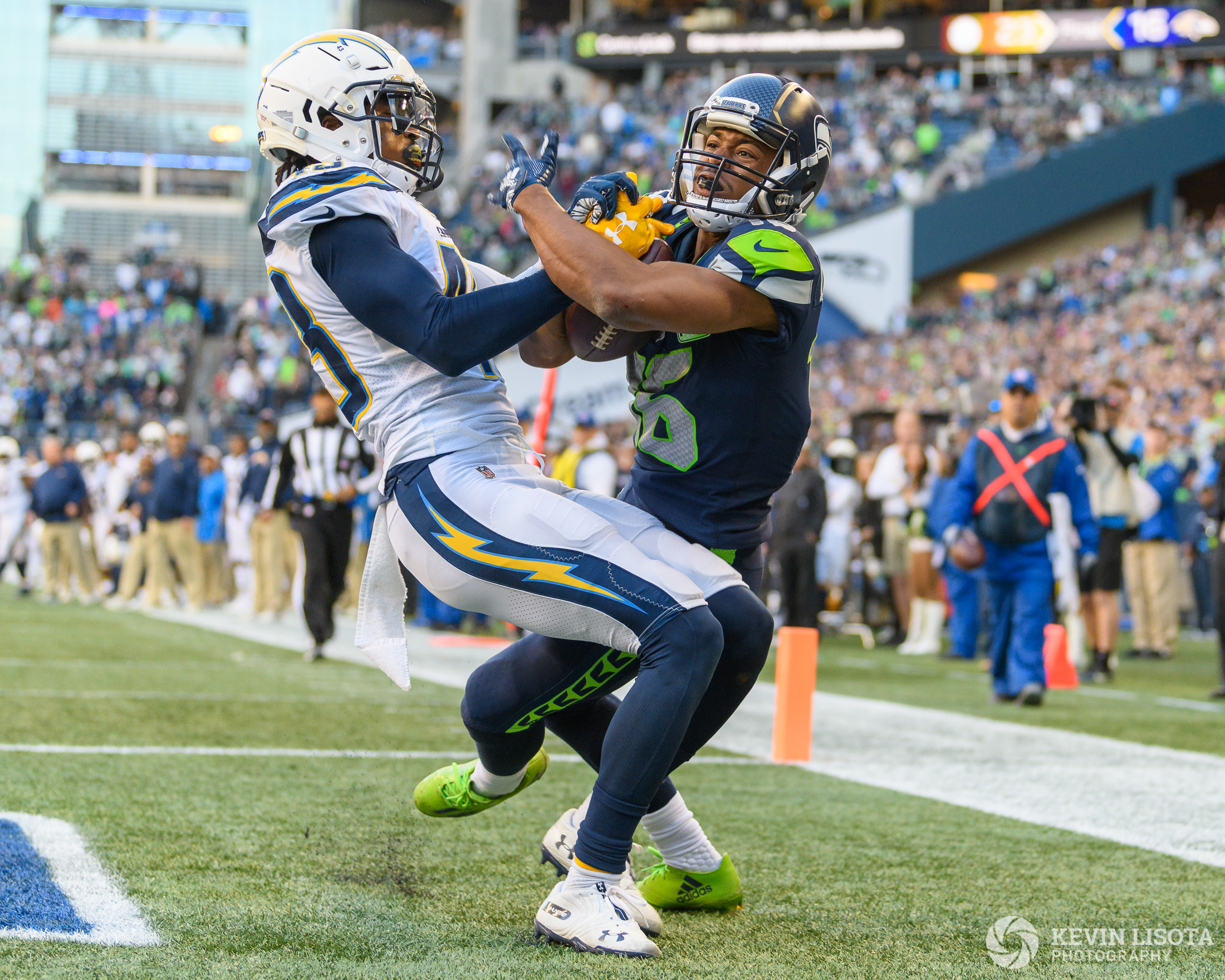 I also like to have a wider lens, like a 24-70 mm. These focal lengths are suitable for capturing the stadium and fan environments and are critical when capturing post-game activities close-up on the field.
Editing football photos
While professional sports photographers still use tools like Lightroom or Photoshop, an equally common program is Photo Mechanic.
Speed is critical when capturing live sports events, and ingesting, culling, tagging, and cropping thousands of photos is too slow in Lightroom.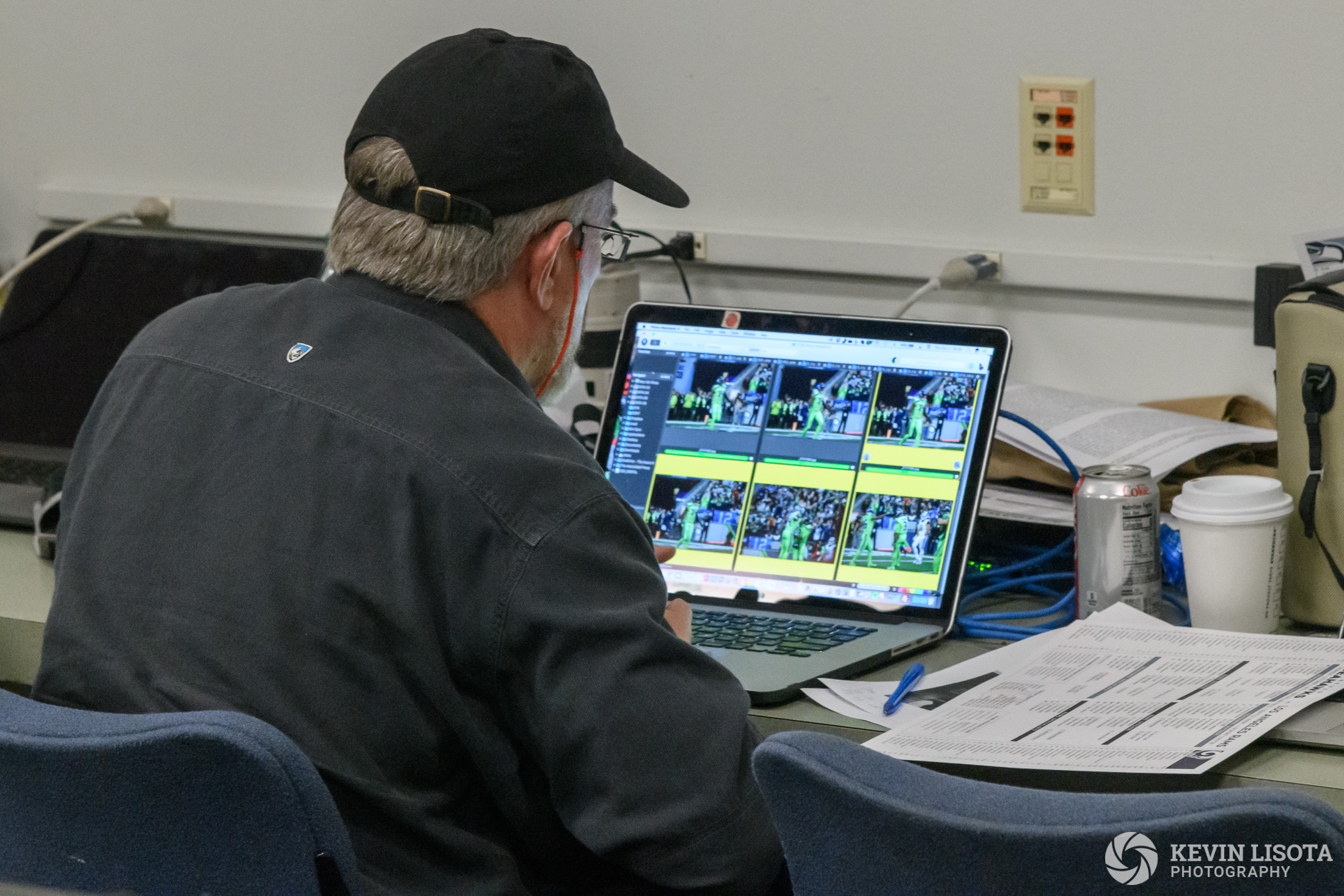 Photo Mechanic has very fast rendering and culling, allowing photographers who need to publish in near real-time to grab the shot, crop it, and export it for publication. It also offers robust and quick metadata tagging, which is critical for publication to news services.
To publish as fast as possible, some sports photographers will shoot in JPEG rather than RAW. Getting the shot in JPEG is undoubtedly faster to edit and crop if you are confident in your exposure and white balance settings. Some publications will shoot in JPEG for quick publication and save RAW versions for photos that can be more robustly edited later.
Composing the scene in-camera is essential, but you will crop almost all photos in post-processing. It can require all your physical and mental abilities to keep the action in the frame and focused. With 22 players on the field, the photos will have many distractions, and a crop will isolate each scene's subject and essential details without those distractions.
Football lighting challenges
Football photography has a couple of challenges with lighting. First, the players' faces are obscured and shaded by their helmets. Capturing their expressions frequently requires boosting shadows in your shots.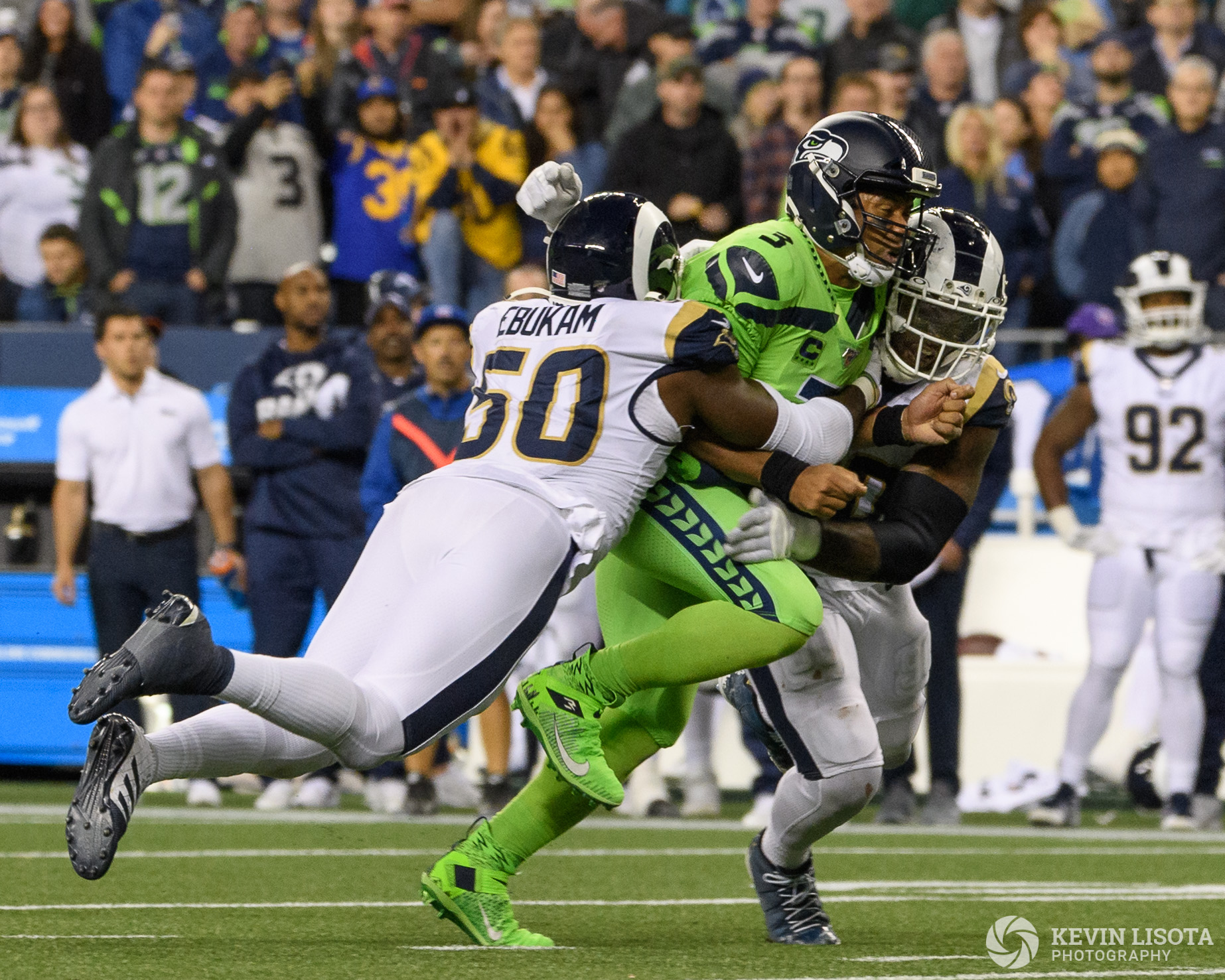 The other challenge is that scenes can be very high contrast, particularly in the midday sun, but also with stadium lighting. Almost all of my football photos require lowering highlights and boosting the shadows to balance out the extreme contrast in many scenes.
Sports photographers who shoot in JPEG will likely take advantage of a feature that boosts shadows and reduces highlights before outputting the JPEG file. On Nikon cameras, this is known as Active D-Lighting. Canon calls it Auto Lighting Optimizer (ALO). Sony calls it Dynamic Range Optimizer (DRO). Note that when these modes are engaged, the RAW files are slightly underexposed to retain more highlight data and will need boosts in exposure when editing them.
Sports photography is hard work
I occasionally shoot sports as part of my photojournalism, so I have a lot of respect for the intensity and pace of professional sports photographers.
The work is demanding mentally and physically, and the speed of capture, editing, and publication will make landscape photography projects seem ponderous and slow.