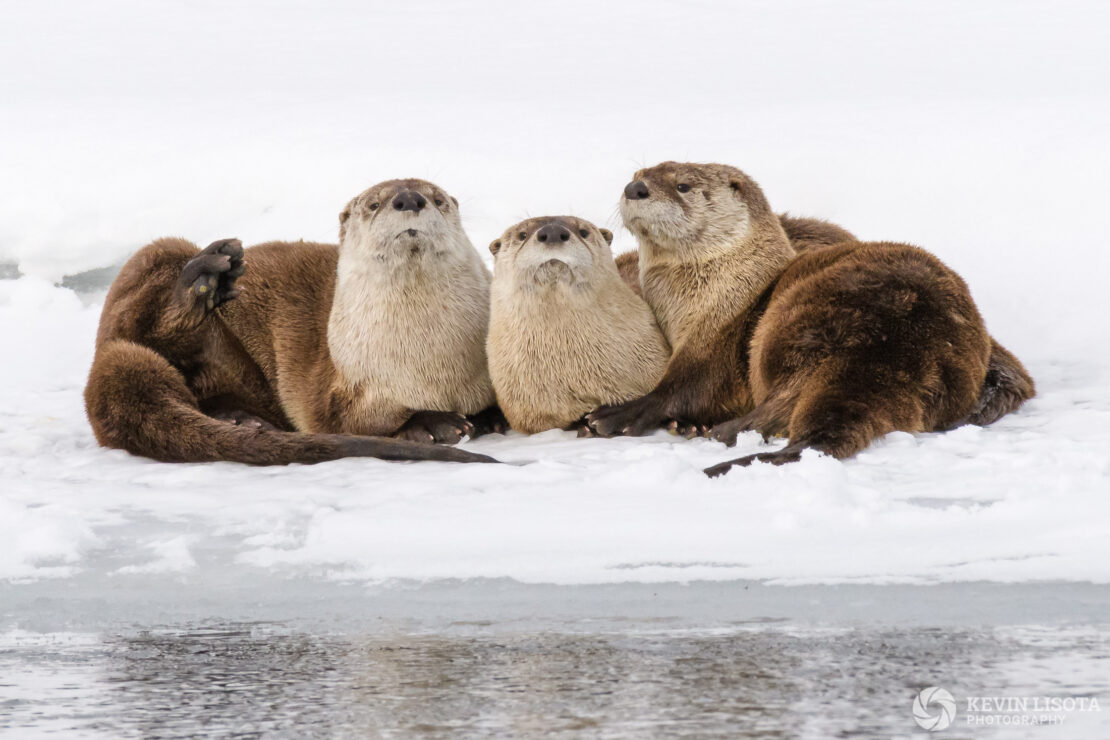 Yellowstone National Park is the oldest and arguably the most picturesque National Park in the world. Although created to showcase its many unique hydrothermal and geologic wonders, Yellowstone is equally prized today for having the densest concentration of charismatic wildlife remaining in the lower 48 states. Bear, wolves, moose, and bison all inhabit the park. Altogether, the park is home to at least 61 kinds of mammals and hundreds of species of birds, amphibians, reptiles, and fish.
Situated in the northeastern corner of the park, the Lamar Valley's open spaces and converging rivers provide excellent habitat for much of Yellowstone's wildlife. Think bison clustered in a snowy meadow, thick coats obscured by snow and breaths visible in the cold morning air. Or envision a red fox pouncing on a mouse under the snow, its fine hearing attuned to the stirrings of its tiny prey. We may also see otters playing and grooming in the Lamar River, or a lone moose on a ridge in the distance grazing on willow. With luck we'll have a chance of seeing wolves on a kill, and if we look carefully we may even spot some of the park's more elusive creatures such as the wolverine, or its distant cousin the long-tailed weasel! It can take some patience sometimes, but patience tends to pay off handsomely. While this workshop is largely focused on wildlife, we're always on the lookout for interesting landscape compositions as well. The valley includes some sweeping scenes, and many smaller, more intimate ones. We will also make time to photograph some of the park's thermal features near Mammoth Hot Springs, including the travertine terraces.
Since our Lamar Valley workshop takes place in winter, this can mean extreme temps. Don't worry, though—we'll be sure you are well-prepared to enjoy your time here with the right clothing and we'll also teach you how to properly prepare your gear. As an added benefit winter means fewer crowds, and also the unparalleled beauty of steamy hydrothermal features, icy riverine vistas, and frost-cloaked trees! We'll be traveling through the valley each day in large, comfortable 4WD SUVs. Each vehicle will contain only three photographers—everyone with a window—to ensure unobstructed views, and for quick and easy access. We'll spend nights in the town of Gardiner, based close to the park for those early morning departures! Days will be long and tiring as we seek to make the most of wildlife opportunities and light, but we'll be sure to stop for a hot lunch in nearby Cooke City as well.
This workshop is suitable for the beginner or advanced photographer. Either way we'll be there to help with technical settings, composition, and shooting techniques in this challenging environment. We want you to come home with plenty of sharp, properly exposed images of wildlife, and for those interested, we can work on advanced techniques like motion blur, panoramas, and focus stacking as well. And of course, we'll make time for our signature image reviews and post-processing sessions whenever possible!
Muench Workshops works closely with the National Parks, and we are an authorized permittee of Yellowstone National Park.
Muench Workshops COVID-19 Workshop Protocols
Location
Yellowstone National Park
Dates
Feb 5, 2022 - Feb 10, 2022
Activity Level
Moderate - Walks in snow of up to one mile with elevation gains, at altitudes of 6,500 feet. Very cold weather.
Group Size
Limited to 6 Guests
Sold Out